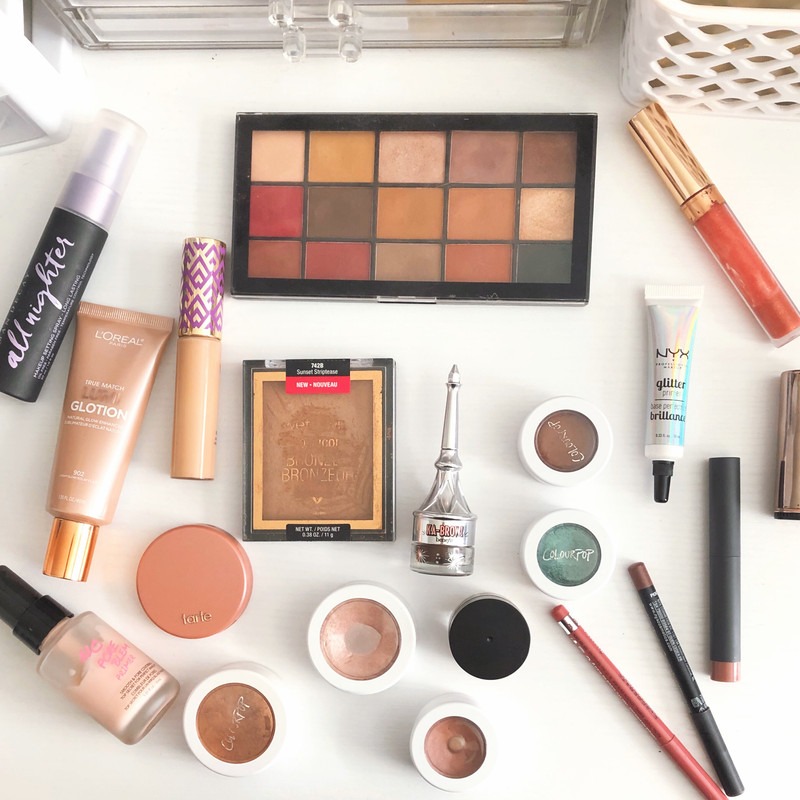 I have been lurking panning communities since they originated in Beauty Blogs *checks timeline* over a decade ago. Oh boy..
Even though I get a lot of use out of most of my makeup I own, I have a tendency to hold onto products, especially creams, far longer than I should. My mom raised me to be thrifty so if something has not gone off then it stays put!
20 Products in 2020 is the latest challenge to trend in r/ProjectPan. There's something satisfying to that goal and even though the number sounds daunting, I think I've found the right combination of products that I could feasibly finish.
The Base Products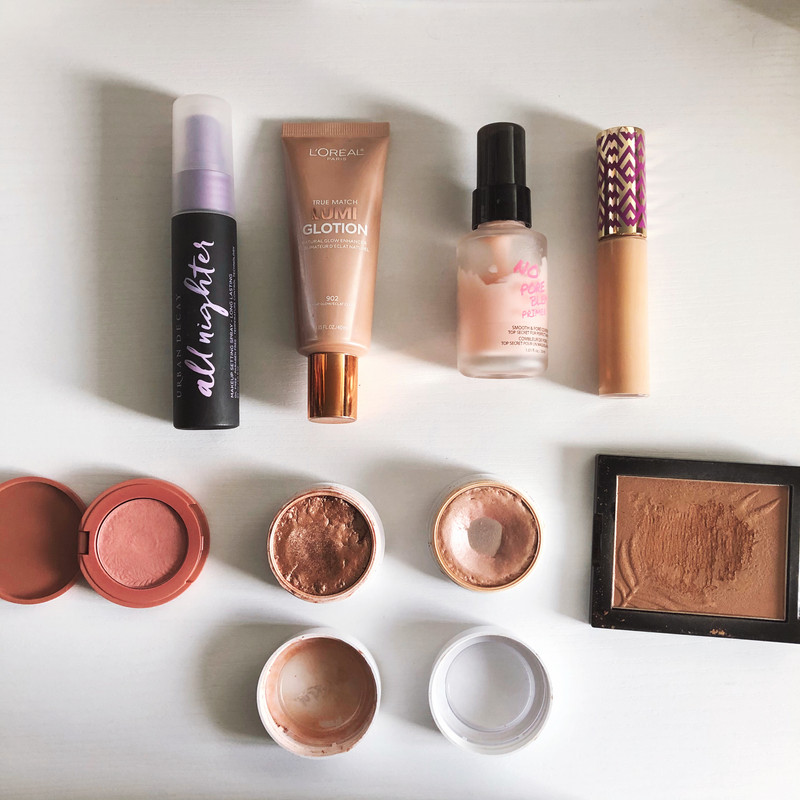 Urban Decay All Nighter Setting Spray (travel size): This is one of many purchases made for my wedding in 2018. I've since found this to be too drying and mainly use it to foil eyeshadow. When I finish the bottle, I'll repurpose the container for something else since the nozzle does produce a fine mist.
L'Oreal Lumi Glotion & Makeup Highlighter: I bought this when it was recommended as a Charlotte Tilbury Hollywood Flawless Filter dupe and I wore the heck out of it last spring and summer with minimal base makeup back when my skin was clearer. Lately, I've only been using it on the highpoints of my face underneath foundation. I'm guessing I have less than half of the tube left.
Touch in Sol No Poreblem Primer: Admittedly, I'm not a face primer person. I prefer having a moisturized base and additional primer on top of my sunscreen doesn't really do much to make my base apply easier or last longer. I've used half of the bottle and have no strong feelings about this product.
Tarte Shape Tape in Light Medium: This is not my shade haha It's too deep and a bit too peachy. I wear this sheered out as foundation just to cover the redness in my cheeks and forehead. I'd like to use this up and purchase a concealer that is less matte and, obviously, a better color match.
Tarte Paaarty Blush (mini): Everyone has this in their project pan because blush is so daunting to use up unless it's a mini. This is such a compact package and utilitarian shade that I'm confident I can finish this one. I can even see the very beginning of a pan forming.
Wet n Wild Color Icon Bronzer in Sunset Striptease: Purchased this after Temptalia gave it a good review. I like this bronzer, but it can be hard to pick up on the kind of brushes I tend to use for bronzer and it's starting to form hard pan as a result. I'll need to mess around a bit to find a brush that will work with this again.
Colourpop Super Shock Highlighter in Smoke n Whistles and Wisp: These were both gifted to me by a friend (hey there if you're reading!) who had already hit pan on the first shade, which I'm determined to fully pan this year or give up trying haha I do not expect to use Wisp up completely, but I want to try and hit pan if possible. Once summer rolls around, I know I'll use these both a ton.
The Eye Products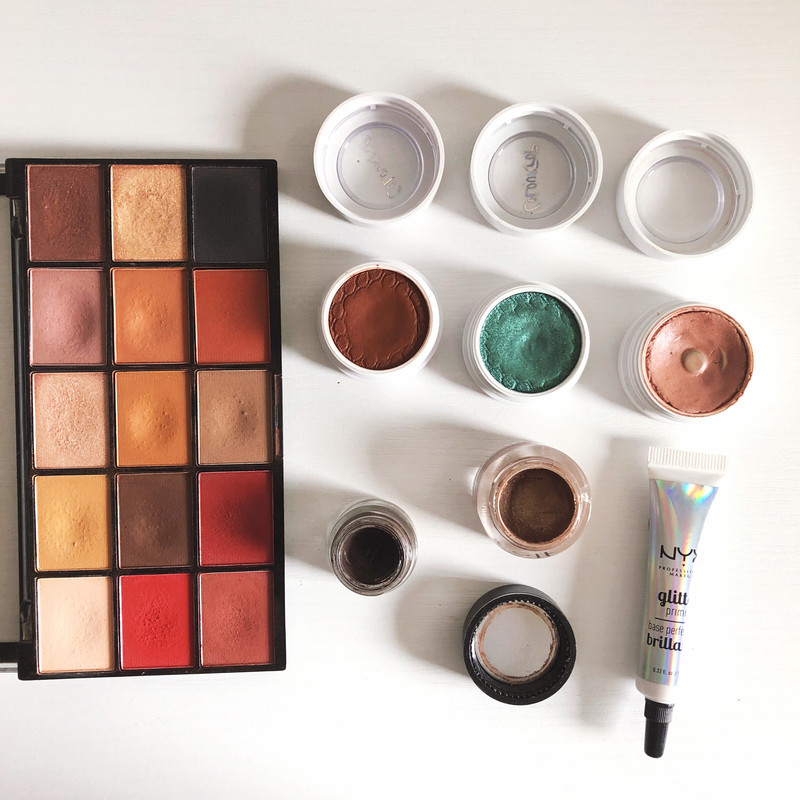 Makeup Revolution Reloaded Palette in Vitality: It's a little daunting to imagine hitting pan on every shade in a palette, but I already have decent progress across multiple pans here. What I really need is to find different color combinations, because I often fall into a pattern of doing the same 2-3 looks. Note: the raspberry pinks are showing up far redder on camera than they are in real life!
Benefit Ka-Brow in 5 Deep Brown: I don't know why the Ulta salesperson insisted this was a better shade match for me than 4.5 given that this is notably warmer than I generally go. This is another "bought it for my wedding" item that I would like to use up before it goes off. This means I'm on a brow product no-buy for the foreseeable future.
E.L.F. Smudge Pot in Cruising Chic: Please don't judge me, but this is quite old. It's still creamy, pigmented, and doesn't have any discernible smell so I'm going to continue using it… but use your own judgment for your products! It's a nice light, shimmery base that I especially enjoy using in the summer.
Colourpop Super Shock Eyeshadow in Bandit, Flower Shop, and Wattles: These are my only super shock shadows left after I went all out on a huge Colourpop order a few years ago. They're still creamy but I know they won't last forever.
Nyx Glitter Primer: I was gifted a tube of Too Faced Glitter Glue on my birthday, and now I never use this one. Since I have been wearing shimmery, glittery products a lot more often, I'm going to try and make an effort to use this enough to decide whether or not I should pass it on for good.
The Lip Products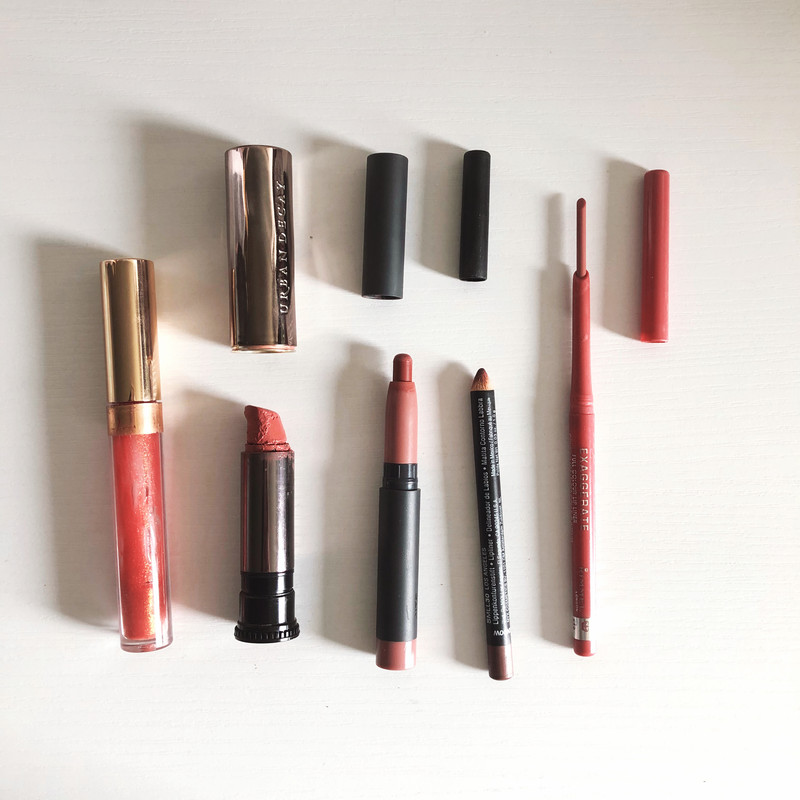 Colourpop Ultra Glossy Lip in Blowzy: This is my favorite lip gloss and it is almost completely used up. I've never panned one before so it's kind of exciting! I'll likely repurchase this exact shade, too.
Urban Decay Vice Lipstick in Sheer Liar: This lipstick is the bane of my existence. It's melting and threatening to fall off the tube any day now. Until then, I'd like to keep trying to use this up to the nub. Even though I hate what a mess it is in its current state, the sheer formula for the Vice Lipsticks are very comfortable.
Bite Beauty Lip Crayon in Glace (mini): I've heard that Bite products have a shorter shelf life so this felt like a good candidate for the project. It's an easy shade to wear and it's one of the few cooler toned lipsticks I own.
Nyx Suede Matte Lip Liner in Los Angeles: I never, ever wear lip liner and even though I like this color, it needs constant sharpening. If I put my mind to it, I'm sure I can finish this within a couple months.
Rimmel Exaggerate Full Colour Lip Liner in Eastend Snob: This is more on the pink side and is supposedly a dupe for Charlotte Tilbury Pillowtalk, which still doesn't motivate me to use lip liner – go figure.
Are you participating in any panning projects this year? I'm always curious to hear what people have chosen to use up!