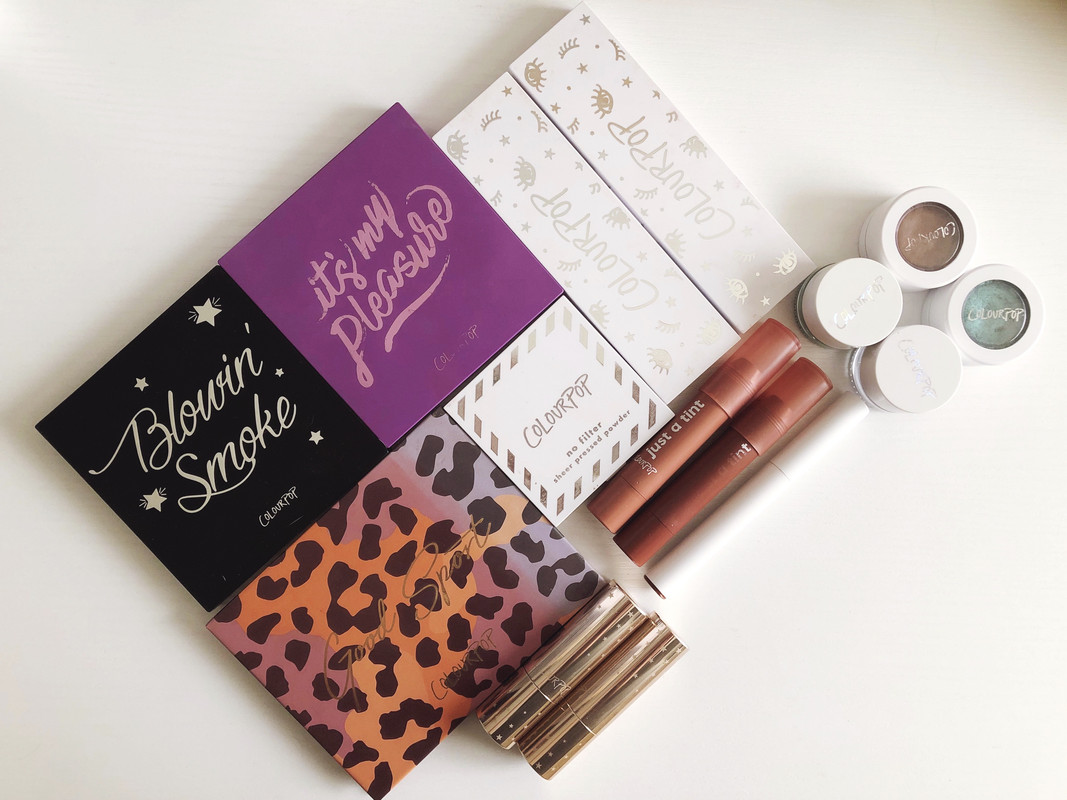 Since 2015, I have placed seven orders from ColourPop. About a month ago I decided to pause purchasing from the brand until I witness marked improvement with their shade range (especially given their past few launches with ashy eyeshadow and lighter blushes), more thought with respect to the volume of their launches, greater transparency regarding their internal navigation of the #PullUpOrShutup promises, and, to be honest, when they stop boring the ever-loving-heck outta me.
Of those seven orders, the products pictured are the only products that I have left in my collection – minus the two highlighters and lipstick given to me by a friend and my brushes. For the purposes of this retrospective, I want to focus on what I spent my own money on to reflect on what I would repurchase if I had that money back, the fast-fashion fomo of ColourPop's marketing history, and how I have learned from these shopping experiences about my relationship to makeup and spending.
So let's dive in, shall we?
Fall 2015 – No receipt on record
Lippie Stix in Grunge

($5): To this date, this is my favorite shade of lipstick. I never understood what a "power color" was until I put this on. Despite its age, this product is still going strong. Unfortunately, I am pretty sure this shade has been discontinued.

Lippie Stix in Poison

($5): I'm intimidated by red lipstick. Even though I liked how it looked on the few occasions that I did wear it, I still defaulted to a more neutral and subdued lip. Just as I was starting to get the courage to try wearing red again, I picked up on the dreaded crayon scent of a lipstick gone bad. Needless to say, this is no longer in my makeup drawers.

Lippie Primer

($5): I… don't get this product. Maybe other lip primers work better than this one, but I find moisturized and exfoliated lips are more practical and useful than adding another product into the mix.

Super Shock Shadow in Plaid

($5): I swear the marketing for this shadow said it was a matte even though the photos and swatches clearly showed shimmer. This was my "dead dove" purchase. I don't know why I still expected it to be matte when all the photos suggested otherwise. I now know what kind of tones and formulas I prefer from the super shock formula. I no longer have this shade.

Supershock Cheek in Pegacorn

($8): I'm not going to lie… I had magpie eyes during this haul. While the lipsticks were perfectly sensible purchases, this was sheer curiosity. It was cute, but I just didn't know how to wear it back then. I no longer have this product.

Supershock Cheek in Cheerio

($8): Of the two, Cheerio was easier to wear but I never really "got" how to use the supershock cheeks. You'll notice I learned my lesson with this one and did not purchase any more.
Overall thoughts: If I were to go back in time and make a purchase, I would still get the Lippie Stix. I think these products are worth the price if you are someone who values variety of shades over packaging or price per ounce.
November 2016
Zingara Supershock Eyeshadow Quad

($15): Jinxie was a forgettable metallic… Elixir swatched very terribly. It was an odd shade of orange that was just hard to use. Seeker was a lovely terracotta shade, but it was a touch dry. Paradox was a gorgeous raspberry pinky-red, but trying to figure out placement with the formula was difficult for me at the time. I wasn't accustomed to doing super colorful looks and since I primarily used my fingers to apply these types of shadows, I was at a loss for how to wear it.

Love Line Supershock Eyeshadow Quad

($15): Static was a slightly metallic deep burgundy that was a lot of fun to wear but also a little hard to figure out how to place for different eyeshadow looks. Brady was an unflattering shade of pale mauve-y pink. Truth was my favorite from this quad. It was a much smoother metallic shade than Jinxie and a perfect base shadow. I wore this to my wedding and only tossed it when it dried out. Sequin swatches beautifully, but I am not fond of the super glittery super shock shades.

Peachy Keen Supershock Eyeshadow Quad

($15): Crimper was a similar glittery formula to Sequin, but it had less base pigment and didn't stick very well. Kennedy was a patchy, unflattering peachy-orange. Cornelius was a lovely neutral brown that I got a lot of use out of before it dried out. I still own Bandit – a lovely warm brown that was super creamy.
Overall thoughts: Here's the thing. The Super Shock Shadows that I truly love get a lot of use from me, but I think the quads were always a bad deal. The pots are bulky, shades dry out at different rates, and it can be hard to learn which formula works for the way you want to apply shadows which makes them less user-friendly than you might think. Of these, I only still own Bandit—currently in a project pan rotation—and I either decluttered or sold the rest long ago.
April 2016
Gel Liner in Stomper, Descanso, and Teaspoon

($6 each): I don't wear eyeliner. My eyes are hooded and if I wear liner, it tends to cover up most of the interesting eyeshadow I'm wearing. I still own Descanso and Teaspoon… and while I should probably toss them, I can't quite bring myself to do it yet. Colourpop is good at making interesting shades, but from what I have heard they still haven't quite nailed the formula on these.

Ultra Satin Lip in Mess Around and Frick N' Frack

($6): I never purchased a true matte liquid lipstick, because the formula and finish didn't appeal to me. When Colourpop released the satins, however, I wanted SO many of them. I wore the heck out of Mess Around. Frick N' Frack was a little boring as a shade in comparison, but that cool-toned brown greige was everything to me at the time haha Both of these separated after a couple years and it wasn't that hard to part with them. Despite generally enjoying Mess Around, I was all-in on bullet lipsticks by this point.

Liner in Honey Dude

($5): While on my liner kick, I bought this one thinking I'd try it out on my waterline. Turns out, I hate putting anything anywhere near my waterline. I wore it a handful of times and eventually binned it for lack of color payoff, continuously, breaking, and age.

Super Shock Shadow in in Wattles

($5): Remember my adoration for Grunge? I had those same squishy feelings for this Super Shock Shadow. It's the perfect neutral pink for my skin tone. I would smudge it all over my lid, blend any neutral shade—or even a bronzer—around the edges, pop a highlight in me inner corner, and repeat the same steps from my crease on the lower lash line. Done. It looked like I put way more effort than the look otherwise suggests and became my go-to minimal makeup look until I panned it. RIP Wattles.

Supershock Shadow in Flower Shop

($5): I'm personally offended ColourPop never released more Pearlized finish shadows. This is such a fun shade whether applied all over the lid as a base for other shadows or used as a topper over darker shades to brighten up the look. It's surprisingly versatile and one of the purchases that encouraged me to work more with color.
Overall thoughts: From this order, I learned that even Colourpop can't make me start using makeup products that I generally don't tend to use and buying multiples of those products was a bad purchasing decision. Even though these are two of my favorite Super Shock Shadows I ever purchased, I owned them for so long before hitting pan. This tells me that I will always favor powder eyeshadow even if having one or two cream shadows has its uses.
April 2018
Creme Lux Lipstick in 27

($7): I waited two years before buying more lip products from Colourpop! I was over the moon that Colourpop released proper cream bullet lipsticks. I was secretly hoping 27 would be closer to Grunge, but it is more practical that I buy something I don't already own.

Pressed Pigment/Powder Shadows

($3 each): This purchase came with two 4-Pan Shadow Palettes as freebies. Mine currently contain a mixture of ColourPop and Makeup Geek Shadows.

Hop On (matte true red) – It's okay. This shadow takes some building up and skews much warmer and orange than I thought it would based on swatches. I was hoping for a bright, true red.
Chauffeur (metallic duo chrome orange gold) – At first, I was really disappointed with this shadow. I wanted it to apply smooth and effortlessly all over the lid, but I've found this is better as a topper shade – a common trend for their duo chromes.
Night Show (dark metallic gold) – Every time I try to apply this on my lid, it completely ruins the look. Dry, foiled, over glitter glue… nothing saves it. This is a lower lash line only formula and I have better shades for that purpose. I finally decluttered it last month.
Two Piece (metallic blue) – This was an AWFUL shadow. Maybe I got a bad one, but it was super patchy and lackluster. I thanked this shadow for its service and threw it away.
Glass Bull (duo chrome lavender icy blue) – Chef's kiss. The best single shadow in my entire collection. Great all over the eye on its own or as a topper. This is my inspiration to branch out into the realm of sparkly indie shadows.
Lay Low (matte soft coral) – A bit boring, but perfectly serviceable. I didn't own any coral shadows so this gave me something to layer with Hop On and Glass Bull.
Backstage (matte medium-dark blue) – this was the same shade as Two Piece with a matte finish and it performs significantly better. While not as effortless as my Menagerie mattes, this does have a place in my single shadow palettes.
Bratty (matte vivid orange) – As with the other mattes, this shade does not need to be built up but it's a lovely bright orange. I wish that Hop On had been this punchy.
Overall Thoughts: I was SO excited to finally try Colourpop's single shadows. I kept putting various shades in and out of my cart and even had a THIRD quad set up but the other duochromes I wanted were sold out. While there were two duds and these didn't change my life by any means, this was an affordable entryway into building a library of singles.
October 2018
Good Sport Shadow Palette ($16)

– This was a love at first sight palette from packaging to color story. I have traveled with this palette several times and even though it is not without some flaws [I don't personally like Wild Out and a few shades are either quite dry of thin, which makes them a little fussy but not unworkable by any means], I still think this is one of the best palettes that ColourPop has ever released.

No Filter Sheer Matte Pressed Powder in Light ($9)

– This is just okay, but I'm not super big on pressed powder in the first place. This was one of those "hey, should I try this step that everyone else has in their routine?" kind of purchases. See my thoughts on liner.

Ultra Glossy Lip in Blowzy ($6)

– I scraped every drop of this gloss out of the tube. As much as people knock the brush applicator, I really love the formula of their original glosses. Plus, they smelled delicious.

Creme Lux Lipstick in Chocolatier ($7)

– This is a great warm brown lipstick and since I knew that I enjoyed the formula of the Lux line, this was a good purchase.
Overall Thoughts: Aside from the Blowzy (which was an empty!), I still own and use all of these products. By this point, I definitely had a better sense of what kind of makeup I enjoyed and wanted to use.
November 2019
Ultimate Brush Roll ($35)

: This is the only ColourPop order I placed this year—a first since 2015. For a while, I removed all of my brushes from my collection to focus on just using these. While I have steadily reincorporated most of my older brushes, these get a lot of use from me—especially the two cheek brushes and the majority of the medium to smaller eye brushes which I was lacking. These have a tendency to stain since I have a few very pigmented palettes and have shed a bit over the past year, but I am satisfied with them on the whole.
Overall Thoughts: A very practical purchase when I could have gone ham on buying color cosmetics during the endless train of sales in November.
February 2020
It's My Pleasure Palette ($9)

: For a long time, I wanted to place another big single shadow order, but given that I wanted several shades in this particular palette… I opted to try out the monochromatic line for the first time. Thankfully, I wasn't disappointed and use this palette regularly.

Blowin' Smoke ($9)

: I was a little more nervous about this palette since I don't tend to do a lot of smokey looks, but using this has brought me out of my comfort zone. I also recently depotted my only other black shadow and it totally shattered haha So it's a good thing that I have this for those rare occasions when I need these kinds of shades.

Coconuts About You Lip Tint Kit ($10.50)

: This was another launch that gave me magpie syndrome. Even though these are hydrating, flattering tones, and easy to wear, I am very glad that I waited. Had I not, I would have half a dozen more… and I just don't need that.

Ultra Glossy Lip in Mythic Journey ($6)

: This was my clown purchase. The packaging just looked so pretty and I thought the gloss would be less glittery and more of a sheer and sparkly topper. I have worn this maybe.. three times max. Definitely up there with one of my biggest regret purchases.
Overall thoughts: The glossy lip was an avoidable mistake and I wish I had bought a third palette instead—specifically Just My Luck, Blue Moon, Uh Huh Honey, or Strawberry Shake… and that's emblematic of just how easy it is to want more from this brand. I'm glad that despite what I wanted, I limited myself to only a few things; even so, I still bought one product that essentially never gets used for a ridiculous reason.
What have you bought from ColourPop over the years? Have their low-shipping threshold, quick-paced releases, and swatches pulled you into buying more than you might have otherwise indulged in?
Total Spent (sans tax): $246.50
Used Up: 2
Decluttered/Sold: 22
Still Own: 20